| | | |
| --- | --- | --- |
| | PC DESK BUILD 2018 | |
Every few years I like to rebuild and re-configure my computer desk.
Sometimes to accommodate new hardware and sometimes because I feel like a change.
But usually both.
In the past few years I have opted for desk builds that have everything on them.
The last four builds have all had 6 functional monitors on them.
Some have had additional custom made hardware built into them.
All very elaborate and over the top - a spectacle to say the least.
But recently I felt the need to scale down a little.
My sentiment was - everything I need, but nothing I don't.
I wanted a station that took a minimalist approach but did not sacrifice functionality in any way.
It also had to accommodate my new LG 34 inch Ultra Wide monitor.
My previous desk had 5 monitors aligned horizontally and symmetrically.
This served me very well for years, but now I wanted to cut back to 3 monitors.
With the arrival of the Ultra Wide, I was not really loosing many pixels doing this.
The sizing worked out very nicely as well, both physically and by resolution.
I was combining the Ultra Wide with my 2 Dell 27 inch 16:9 monitors.
All three monitors have a vertical resolution of 1080 pixels and are also the same physical height.
This made for a most agreeable configuration.
The desk itself was also very different to past versions.
This is where I tried hard to be minimalist.
Previous models were complex structures made to be floor standing and hold a variety of different monitors.

This desk would be wall mounted and be as structurally simple as possible.
Most importantly, it was to have no floor standing legs and was to be as invisible as possible.
That being that the bulk of the structure was to be hidden from view.
The matt black paint of the desk disappears against the black wall behind it.
After some careful thought and precise measurements, I went to my old school friend, Chris Hill, who welded the structure together for me.

I painted, assembled and installed the desk without difficulty.
The monitors where fitted and the gloss black Perspex desktop was attached.
I am incredibly happy with this new configuration.
It feels very natural and very comfortable.
I am enjoying the balance that I have created between simplicity and functionality.
In short, I feel that even though this desk is far less complicated than previous renditions, it is my best effort yet.
Whether I am gaming, writing code or just surfing the web, everything just feels right.
Everything has space and is comfortable to work with.
Simply sitting at the desk initiates creative thought in me.
I am well pleased.
The three monitors are driven by an ATI Eyefinity 3 GPU, so when gaming I am able to stretch the game across all three monitors.
This provides a most immersive experience.
Tomb Raider and Doom4 are excellent examples of this monitor configuration
backed up by an Eyefinity GPU.

The desk is complimented by my enviable Logitech G900 cordless gaming mouse and my Coolermaster Cherry Blue Mechanical RGB keyboard.
Thank you for viewing this brief post on my latest PC Desk.
I invite you to join me on a short pictorial of some of my previous configurations.

| | | |
| --- | --- | --- |
| | THE HISTORY | |
Although I started programing computers in 1985, I did not own an IBM X86 PC until 1994.
Since then I have built more and more complex multi monitor configurations for my home PC.
I began with multi monitor setups in the days of Windows 95 - back when it was not as simple to configure.
Since then I have always had multi monitor systems, with each rendition growing in complexity and functionality.
Please enjoy a brief pictorial of my previous configurations as they developed over the years.
There are a couple of gaps were I could not find any photographs, but the bulk of them are here.
Going through these photos and looking at the progress has been heart warming for me.
I encourage any gamer or computer enthusiast to build the biggest and best station that their budget allows.
It will most certainly prove to be time and money well spent.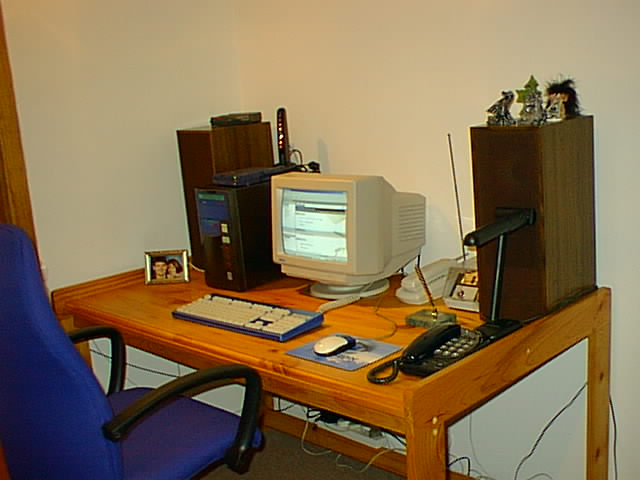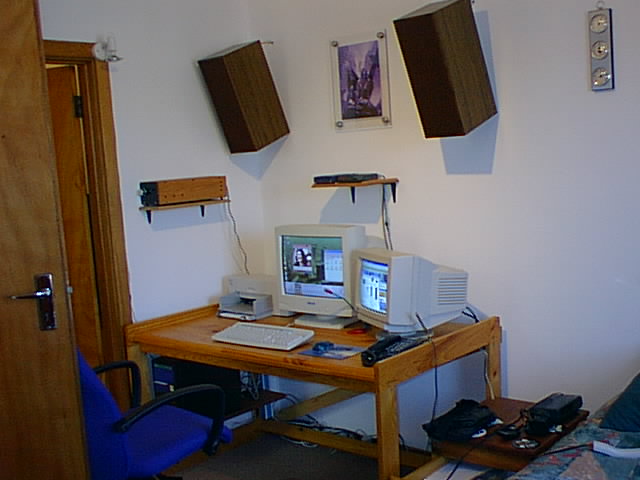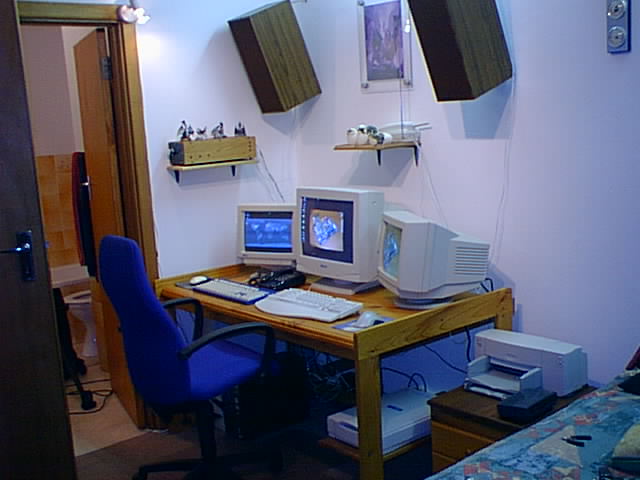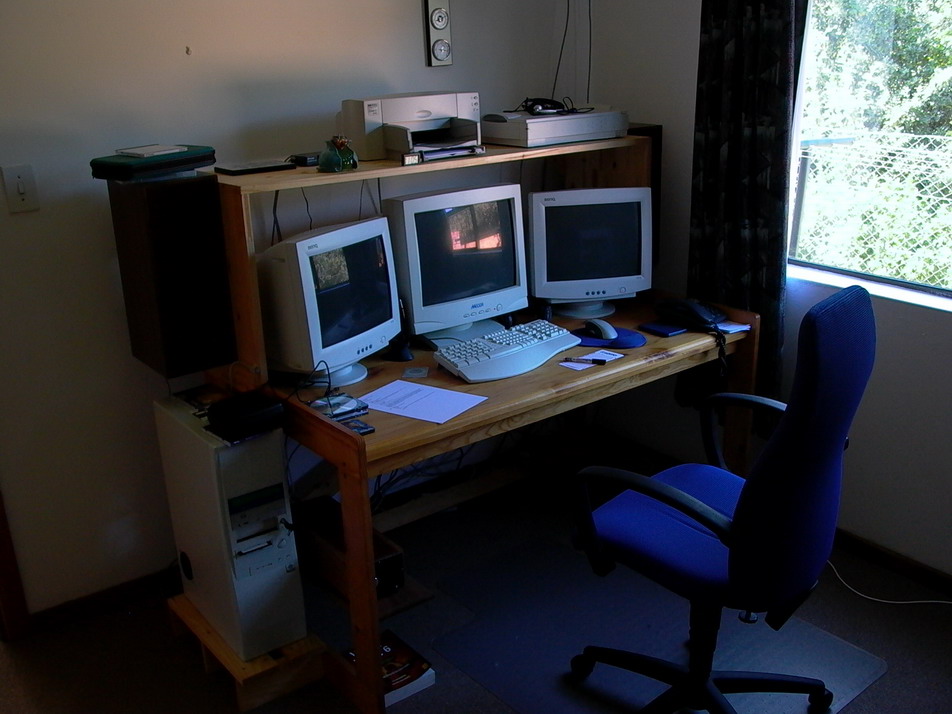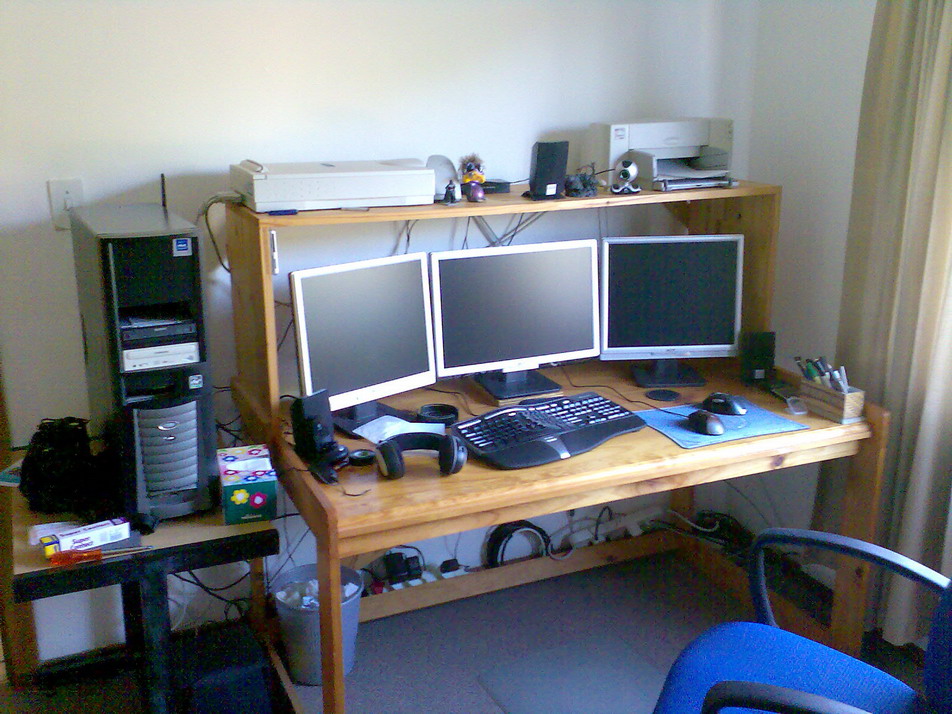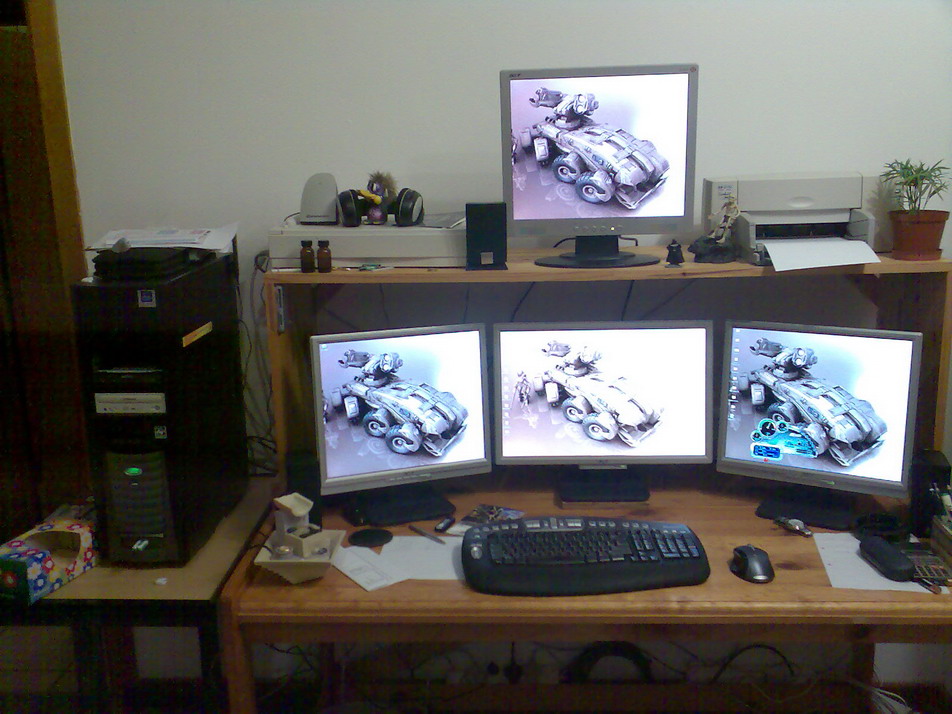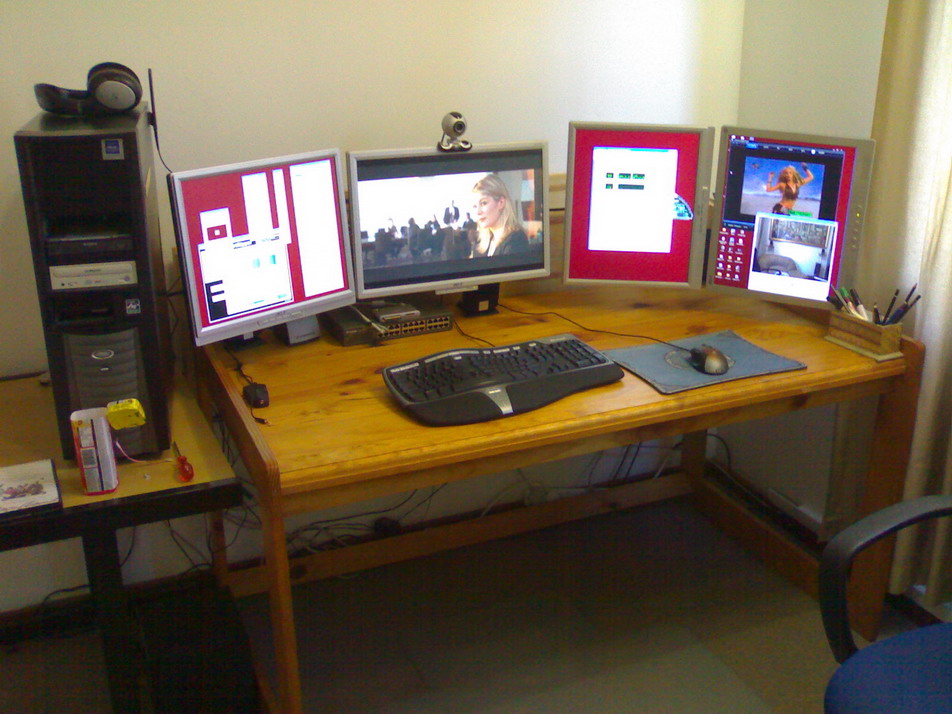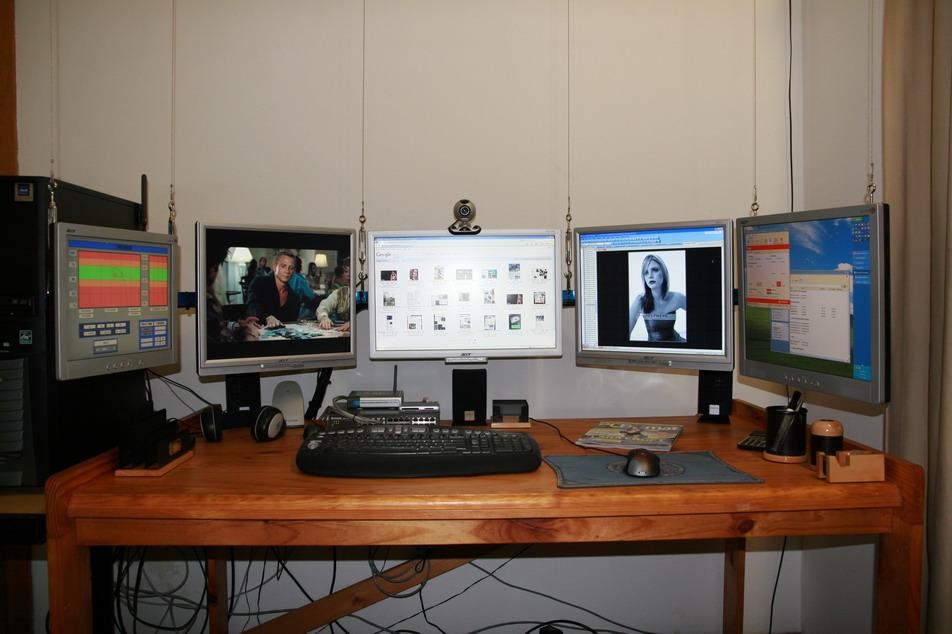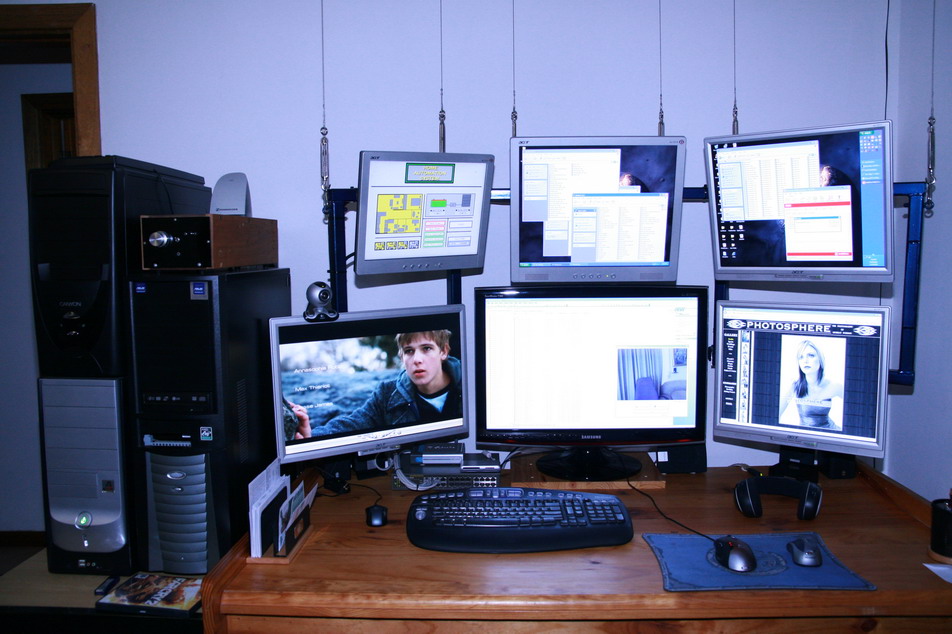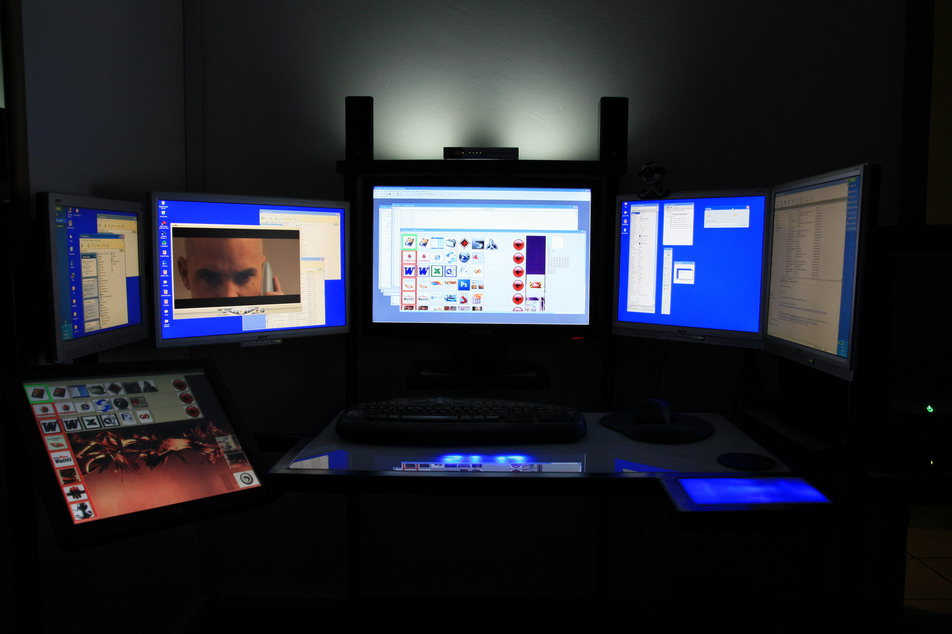 | | |
| --- | --- |
| | |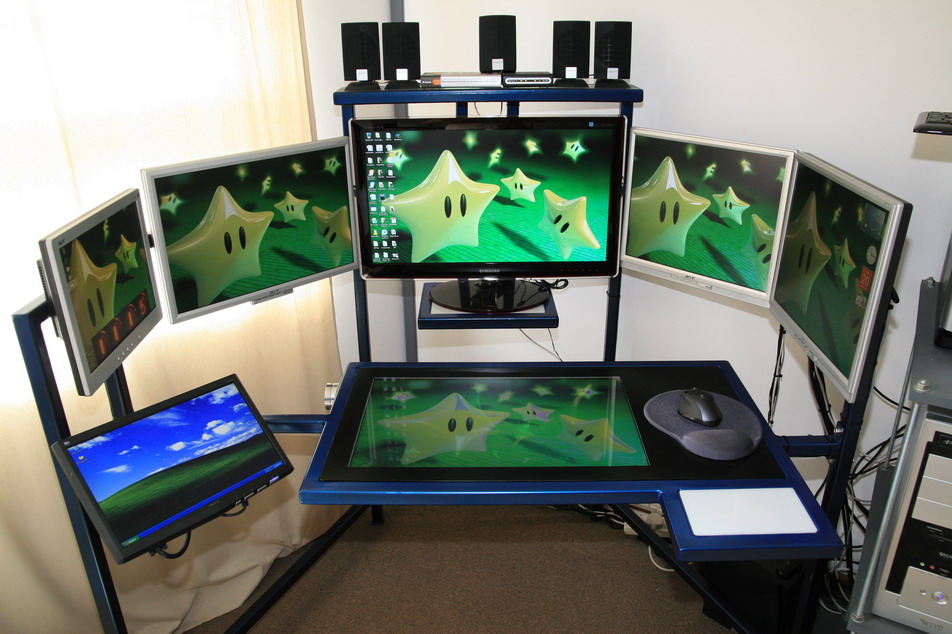 | | |
| --- | --- |
| | |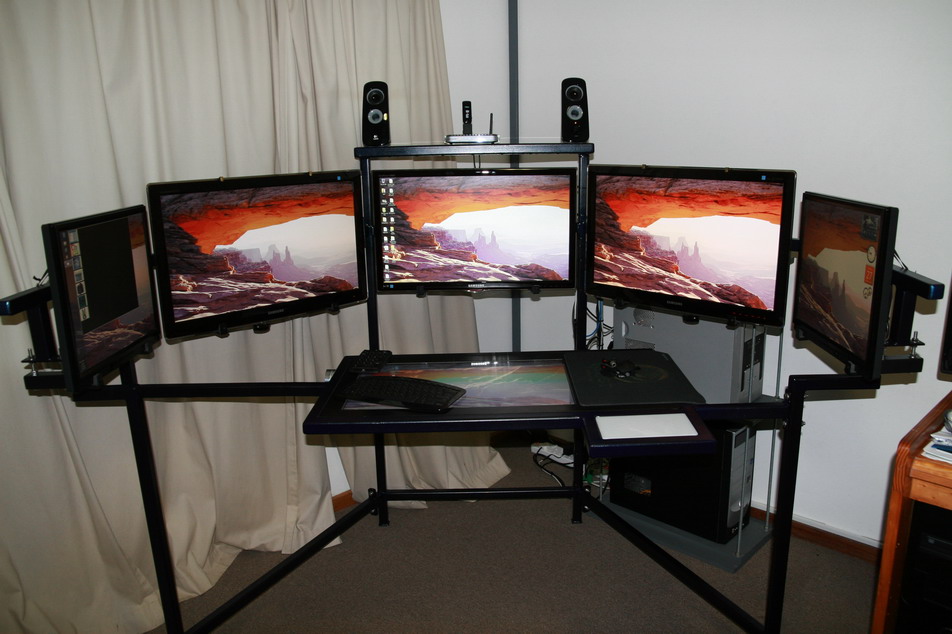 | | |
| --- | --- |
| | |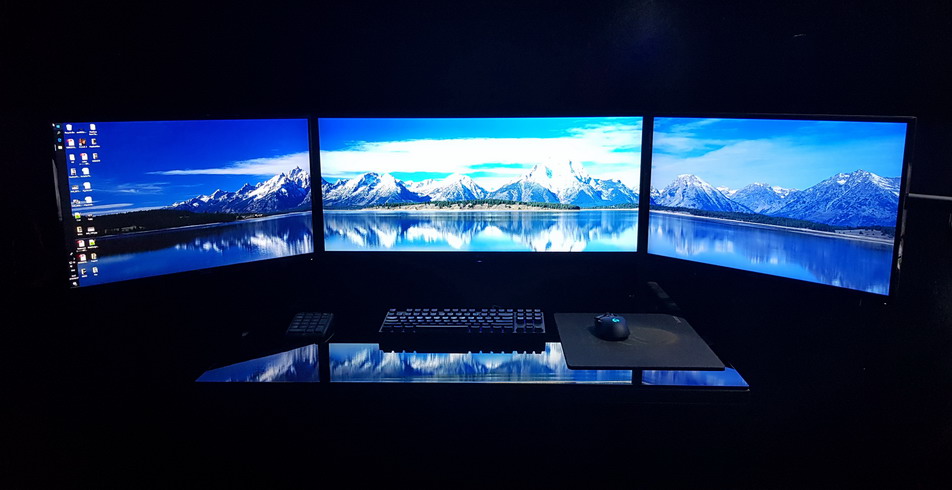 | | |
| --- | --- |
| | |
If asked, which is the best configuration to build, I would be hard pressed to provide an answer - even after the path I have walked.
The best build is the one most suited to your needs and your environment.
Some people want a multi monitor behemoth, some want functionality, some want elegance and others prefer RGB eye candy.
Each to his own - consider what your needs are for the next three years and put your creation together.
Remember that the more monitors you add, the more work your PC has to do to keep up.
So consider the power of your Rig when you begin your build.
My friend and fellow tech enthusiast, Gary Swartz, has walked a similar path with me.
He is currently in the process of building a monster multi monitor station based around his 4K - 43 inch primary monitor.
Gary has an eye for detail and refuses to settle for less than perfection,
so I look forward to seeing the outcome of this elaborate project.
Once the build is complete, I hope to add it to my website for your viewing pleasure.